The new display
The most immediately noticeable difference in the Apple Watch Series 4 is the new display. It pushes out toward the edges, shrinking bezels and rounding off corners to match the curve of the case. Whether you choose the big or the small watch, you get more than 30 percent more display area than the prior Apple Watches.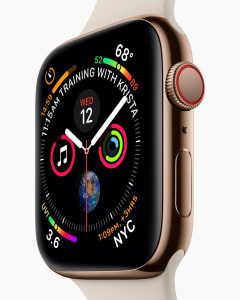 Fall detection
The upgrade does power newly added fall detection however. This feature intelligently detects when someone wearing Series 4 falls, presents an option to call emergency services or dismiss the alert, then automatically calls emergency services and notifies your emergency contact if you don't respond within one minute of a detected fall.
Fall detection is turned off by default if you're under 65. Apple says that's because younger people often participate in activity that could be mistaken for a fall, like playing sports, but you can turn it on manually.
Health and fitness
Make no mistake, the Apple Watch Series 4 can take on and beat any ugly Fitbit or cheap fitness band out there, and the technology and design makes it more user-friendly and useful than any of them. There's automatic exercise detection now, and it works well — walking swiftly to the gym and running up steps on the way saw the watch ask if I was about to start a workout. There are plenty of pre-built workout plans, now including yoga and hiking, which are simple to access and start. It's all transferred into the iPhone's Health app, where the data is presented clearly and helpfully. Simple, clear, and helpful. How many fitness products can you say that about?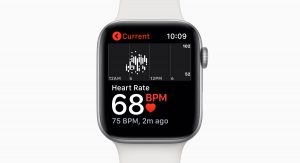 Battery and performance
The Apple Watch's battery capacity is unknown, but Apple says it will last for around 18 hours before it needs a recharge using the included magnetic charging disk. The quoted time is on the conservative side, depending on your use. If you're using GPS, fitness tracking, or cellular, then 18 hours is at the top end, but with only notifications and turning it off overnight, we could almost reach 24 hours. Not great, but we've seen worse.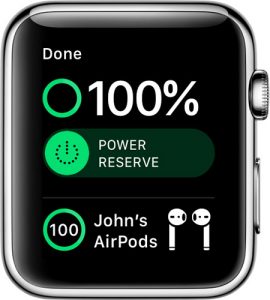 Summary
Earlier Apple Watches were impressive wearables, but the new Series 4 is the strongest argument yet for wearing a smartwatch. And that's not just because of bigger, edge-to-edge screen or its improved fitness tracking either. The combination of a more powerful processor and thoughtful, feature-rich software make the Series 4 the most capable wearable around. Solid battery life and potentially life-saving new heart tracking features only sweeten the deal.